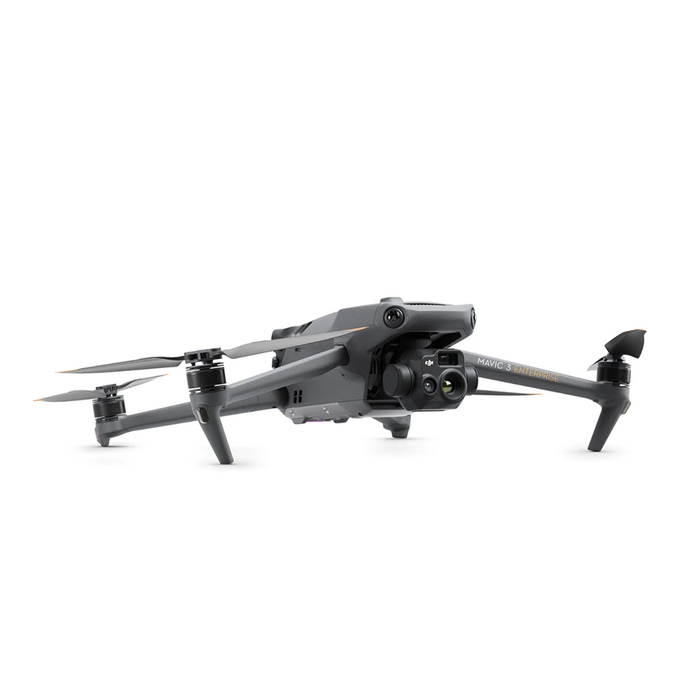 Small, compact and packs a punch.. the Mavic 3 Enterprise is a high flyer
Key Features

Portable
Maximum Flight Time: 45 Minutes
CMOS 4/3" Wide Camera
56x Hybrid Zoom Maximum
Optional RTK Module/Speaker

High-Performance Camera

Wide:
4/3 Inch CMOS Sensor
20 Megapixel
Pixel Size: 3.3um
Shutter: Mechanical
Equivalent Focal Length of 24 mm

Telephoto:
1/2 Inch CMOS Sensor
12 Megapixel
Hybrid Zoom 56x,
Equivalent Focal Length of 162mm

Increased surveying effectiveness

RTK Module increases flying time to 42 minutes.

0.7 seconds for the shutter speed

Maximum velocity: 15 metres per second

In one flight, capture an area of two kilometres square!

With the new 100W Charging Hub, it only takes 70 minutes to fully charge one battery.

Four batteries are all you need in the field to complete a full day of flight operations.

Mapping Accuracy to 1 cm

Time sync 2.0 can reach centimetre-level accuracy with the RTK module.

A mechanical shutter ensures that there is no rolling shutter effect under high-speed movement.

The mapping accuracy is relative to the GSD, and M3E GCP-free accuracy is about 2 times that of GSD. Similar accuracy to Phantom 4 RTK/Matrice 300 + P1.

O3 Enterprise Transmission

The range on the DJI Mavic 3 Enterprise is about 9-15 kilometers with low interference and 1.5 to 3 kilometers with strong interference.

Compact and Portable

Lightweight 915g/920g airframe
A compact body that fits in the palm of
your hand
Perfect for beginners and veteran pilots
alike

Ultra-long battery life

45-min max flight time
100W charging hub for fast charging
batteries
88W drone direct charging

Flagship Flight Safety

Wide-angle lenses for omnidirectional
obstacle sensing with zero blind spots
Advanced RTH
APAS 5.0 for automatic rerouting
around obstacles

Abundant Accessories

(Accessories sold separately)

DJI RC Pro Enterprise
RTK Module
Loudspeaker
D-RTK 2 Mobile Station

Full Software Suite

DJI Pilot 2

The RC has a built-in DJI Pilot 2 APP that supports multiple mission planning options, including waypoint, mapping, oblique and linear.

DJI FlightHub 2

Flight Hub 2 features are also available including live streaming, aircraft info, live 2D mapping, panorama and media upload, and mission planning.

DJI Terra

You can import images taken by M3E/M3T to Terra for 2D/3D reconstruction, M3T mapping is not recommended due to unreliable accuracy. Both M3E and M3T include one DJI Terra license for 3 months. The free license is activated when the drone is activated.

DJI Thermal Analysis Tool 3.0

DJI Thermal Analysis Tool 3.0 is supported at launch allowing you to create a report and manipulate the radiometric thermal data with the specific parameters following data capture.