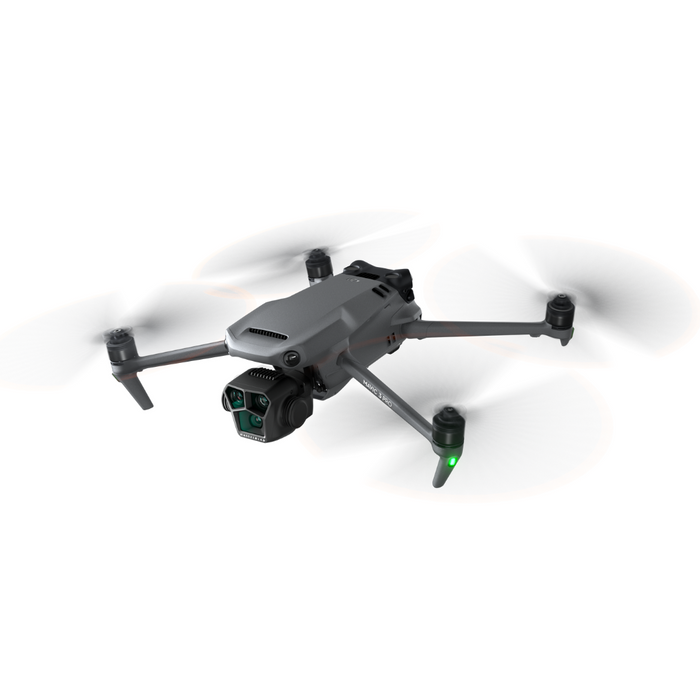 DJI Mavic 3 Pro Fly More Combo with RC Pro
DJI Mavic 3 Pro Fly More Combo (RC)
Capture professional-grade video footage with next-level imaging performance, the DJI Mavic 3 Pro Fly More Combo has been designed with a triple-camera system. The DJI Mavic 3 Pro houses three sensors and lenses with different focal lengths, including a Hasselblad camera and dual tele cameras, letting you unlock new shooting perspectives as you switch seamlessly between the different focal lengths. Making the Mavic 3 Pro ideal for capturing magnificent cinematic masterpieces and photographic storytelling. The focal range makes this system ideal for use when capturing video footage of wildlife, architecture and the natural environment.
DJI RC
This DJI Mavic 3 Pro Fly More Combo kit comes with the DJI RC controllers, a lightweight controller with a long 4-hour battery life which has been designed to deliver an exceptional operating experience when piloting your DJI Mavic 3 Pro while supporting advanced DJI O3+ video.
Switch Displays With A Tap
Created with a straightforward user interface, letting you quickly switch between various focal lengths by tapping the display. This improved efficiency provides you with more opportunities to focus on creating and telling your story. Switch between the three cameras and their focal lengths to produce more dynamic and dramatic aerial footage.
Tri-Camera
The three camera sensors that are built into the DJI Mavic 3 Pro are the 4/3 CMOS Hasselblad Camera, the 1/1.3-inch CMOS Medium  Tele Camera and the 1/2-inch CMOS Tele Camera. The 4/3 CMOS Hasselblad Camera has a 24mm equivalent focal length and a 20MP, which allows you to capture incredibly detailed wide-angle shots and is fantastic for producing establishing shots. 
Get up close to the detail thanks to the 166mm equivalent focal length on the 1 /2-inch CMOS Tele Camera and capture an incredible amount of detail when you switch to the 1/1.3-inch CMOS Medium Tele Camera with its 70mm equivalent and 48MP sensor. 
Hasselblad 4/3 CMOS
The inbuilt Hasselblad 4/3 CMOS camera supports shooting 12-bit RAW photos with a native dynamic range of up to 12.8 stops. This, coupled with Hasselblad's Natural Colour Solution (HNCS) allows you to produce footage that contains colours accurate to what the human eye perceives. The Hasselblad camera is able to capture professional-grade footage at 5.1K/50fps HLG, DCI 4K/120fps night shots and 10-bit D-Log hyper-lapse footage.
Versatile Video Specifications
Created stunning aerial footage and images in a number of video specifications including 4K/60fps, 10-bit D-Log M, HLG and Hyperlapse with the 70mm Medium Tele Camera. The 70mm camera compresses the depth of field and focuses, letting you highlight the individual subject.
Never worry about distance again
The 166mm Tele camera is capable of shooting 4K/60fps video with a 7x optical zoom. This system has also been designed with a hybrid zoom which is capable of reaching up to 28x zoom. Perfect for wildlife observation as it allows you to effortlessly observe animals at a distance without disturbing them.
Extended Flight Time
The DJI Mavic 3 Pro has a maximum flight time of 43 minutes, which gives you plenty of time to take stunning aerial shots, without having to worry about battery levels. 
Omnidirectional Obstacle Sensing & APAS 5.0
Simple and easy to fly, the Mavic 3 Pro has been designed with APAS 5.0 when flying. Allowing both seasoned and beginner pilots to fly the Mavic 3 confidently, as eight wide-angle vision sensors work to sense obstacles in all directions precisely. Increasing the overall obstacle avoidance capability and safety of the drone.
DJI O3+ Transmission
Achieve a transmission distance of up to 15km with a 1080p/60fps live feed, maintaining a high frame rate with your live feed connection and letting you pilot with confidence as the Mavic 3 Pro is more responsive to your control.
Waypoint Flight
Enjoy an enhanced automated flight experience with the waypoint flight system. The Mavic 3 Pro can automatically plan a flight route based on a number of preset waypoints provided by the user. This automated flight path can be flown repeatedly in an automated flight. While the drone concentrates on maintaining its course, you can devote your time to taking the best aerial shots.
Advanced RTH
An advanced RTH system has been integrated into the Mavic 3 Pro, providing an updated auto-return function. This return function allows the DJI Mavic 3 Pro to determine a safe and efficient flight route back to its home point automatically. While effectively and easily bypassing obstacles on the RTH path.
Intelligent Features 
Produce professional-grade aerial cinematography with the help of inbuilt intelligent flight and recording features, including FocusTrack, MasterShots, QuickShots, and Panorama modes. Enjoy stable tracking thanks to the DJI Mavric 3 Pros FocusTrack system, allowing you to make use of ActiveTrack 5.0, Spotlight and point of interest tracking. Enabling you to have stable tracking shots in multiple directions
Ready To View
Use MasterShots mode with your DJI Mavic 3 Pro to produce ready-to-view cinematic footage, as this intelligent system will automatically shoot, edit, and add soundtracks to your footage.
Highspeed QuickTransfer 
Transfer your photos and videos to your smartphone for more efficient post-production and editing, all without linking the remote controller
LightCut
The Mavic 3 Pro can connect wirelessly to the LightCut app on your mobile device, allowing you to quickly preview your clips and use an AI-based one-tap editing system. The LightCut app can recognise themes within the footage, editing automatically and outputting 4K/60fps video, all within the palm of your hand.
Key Features:
4/3 CMOS Hasselblad Camera
Dual Tele Cameras
43-Min Max Flight Time
Omnidirectional Obstacle Sensing
15KM HD Video Transmission
What's in the box?
DJI Mavic 3 Pro x 1
DJI RC x 1 
DJI RC Control Sticks (Pair) x 1
DJI Mavic 3 Intelligent FlightBattery x 3
DJI Mavic 3 Low-Noise Propellers (Pair) x 6
DJI 100W USB-C Power Adapter AC Power Cable x 1
DJI 100W USB-C Power Adapter x 1
USB-C to USB-C Cable x 2
DJI Mavic 3 Battery Charging Hub (100W) x 1
DJI Mavic 3 Pro Storage Cover x 1
DJI Mavic 3 Pro ND Filters Set (ND8/16/32/64) x 1
DJI Shoulder Bag x1