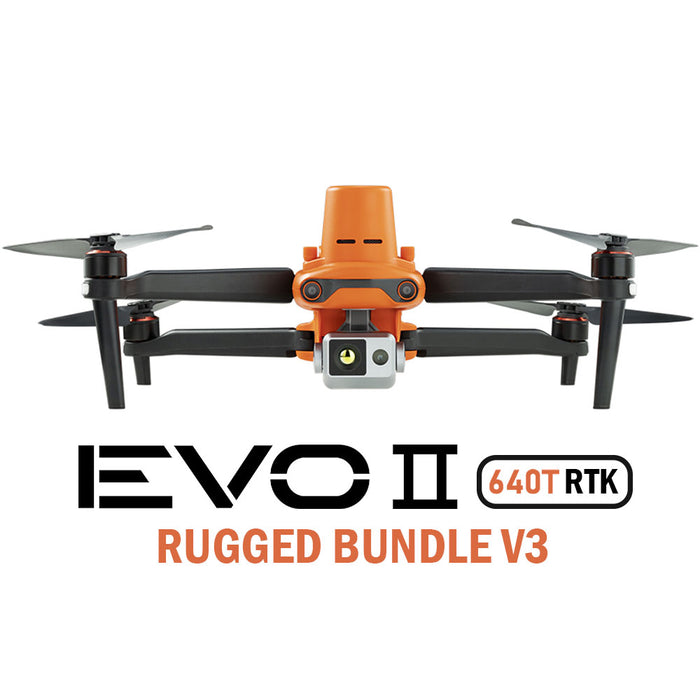 Autel EVO II Dual 640T RTK Rugged Bundle V3
Introducing the Autel EVO II Dual RTK Rugged Bundle 640T V3, the ultimate aerial imaging solution designed to elevate your drone photography and videography to new heights. This rugged and feature-packed bundle is specifically crafted for professionals who require exceptional visual capabilities and uncompromising durability in challenging environments.

The Autel EVO II Dual RTK Rugged Bundle 640T V3 combines the cutting-edge technology of the Autel EVO II Dual RTK drone with a comprehensive set of accessories, ensuring you have everything you need for seamless operation and maximum versatility. Let's dive into the key features of this remarkable bundle:

1. Autel EVO II Dual RTK Drone: This advanced quadcopter boasts an impressive dual-camera system, consisting of a 640x512-resolution thermal camera and a 48-megapixel visual camera. With the ability to capture thermal imagery and high-resolution stills or videos simultaneously, you'll have unparalleled situational awareness and data collection capabilities.

2. Rugged Design: The EVO II Dual RTK drone is built to withstand the rigors of demanding missions. Its rugged construction and IP rating ensure resistance to dust, water, and extreme temperatures, allowing you to confidently operate in any environment.

3. Flight Performance: Powered by a high-capacity battery, the EVO II Dual RTK offers an extended flight time of up to 40 minutes, enabling longer missions and more efficient workflows. With a maximum flight speed of 45 mph (72 km/h) and a transmission range of up to 9 km (5.6 miles), this drone delivers exceptional performance and range.

4. Advanced Obstacle Avoidance: Equipped with a comprehensive obstacle avoidance system, including 12 computer vision sensors, the EVO II Dual RTK ensures safe and reliable flight operations. This feature enhances situational awareness and provides precise control, even in complex environments.

5. Autel Explorer App: Seamlessly control and plan your flights using the intuitive Autel Explorer app. With features such as waypoint navigation, intelligent flight modes, and real-time live streaming, you'll have complete control over your aerial photography and videography experience.

6. Comprehensive Accessories: The Autel EVO II Dual RTK Rugged Bundle 640T V3 includes a range of essential accessories to enhance your drone operations. The bundle comprises a rugged hard case, additional batteries, a multi-battery charger, spare propellers, and more, ensuring you're equipped for extended missions and efficient battery management.

Whether you're an aerial photographer, industrial inspector, or search and rescue professional, the Autel EVO II Dual RTK Rugged Bundle 640T V3 offers an unrivaled combination of visual capabilities, durability, and versatility. Elevate your aerial imaging endeavors with this exceptional bundle and capture the world from a whole new perspective.
What's included:
Aircraft

3 x Flight Batteries

7.9" Smart Controller

4 x Propellers (pairs)

110V Wall Charger

12V Car Charger

Battery Charging Hub

Smart Controller Charger

Smart Controller Charging Cable

Attachment Port Cover

Hard Carrying Case